The Interdisciplinary Social Science degree program (ISS), offered by the Department of Social Science, provides students with a solid grounding in interdisciplinary social science research methods and critical social theory. Our program challenges students to grapple with defining what it means to do interdisciplinary research and to develop their own unique interdisciplinary approaches to critical social inquiry.
Our courses provide students with the opportunity to explore a range of progressive fields including urban studies, international development studies, health and society and African studies. We aim to help students think critically about historical and contemporary issues related to social and political thought, social justice and diversity, sustainability and the environment, social exclusion and identity, diaspora and global development.
In addition to fostering strong theoretical and methodological training, the ISS program is based on a belief that social analysis cannot be separated from social practice. Professors and many students affiliated with the program are actively engaged in fostering social change.
An ISS degree will benefit students interested in studying the relationship between culture, politics and the economy in Canadian and global contexts. We help students develop a set of transferable skills for a variety of different careers, as well as for further studies at the graduate level. These skills include written and oral communication, research, analysis, critical thinking, problem-solving and time management.
Students are strongly encouraged to combine their ISS degree with another Major or Minor program either within the Department of Social Science or in another department.
Students & Faculty at the "What to do with your degree" event, 05 March 2020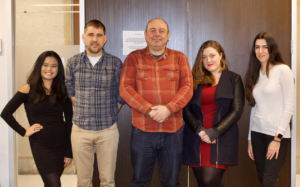 Students at Winter Orientation, 20 January 2020